Auto Translation
Auto Translations
I2 Localization allows typing or importing the term's translation to each language, but most of the times its useful to use an automatic translation while developing the interfaces until a human translator could provide corrected translations.
There its a Translate button next to each language. When that button its clicked it contact Google Translate Web and downloads the translation of the term into the corresponding language. The source of the translation will be the first translated language that its not empty or the Term's name in case there is no translation already set.
To make translation easier, there its also a "Translate All" button that performs the translation to each of the empty languages.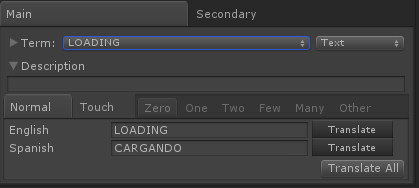 Terms translated using Google Translator shouldn't be used in production without verifying they are correct in the given context, thats why they are now mark as "Translated by Google Translator" to let you know that a human translator should approve that translation. A button with a checkmark its displayed next to the language to allow approving the translation.
When the terms are flagged as Auto Translated, they are imported into Google Spreadsheets by using the GOOGLETRANSLATE formulae.
That way, any modification to the other columns will update the translation. Also those cells are highlighted with a different color to identify them.
Created with the Personal Edition of HelpNDoc: Produce online help for Qt applications